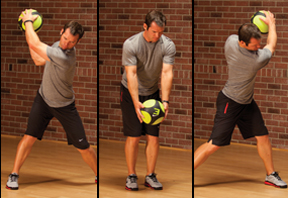 XCEED Sports Performance of Gainesville, Florida offers certified personal golf training programs for anyone, regardless of skill or athletic level. We also offer the NG360′ Functional Performance System (FPS), a scientific process of analysis and training to enhance the athleticism and performance of the golfers in our program.
The XCEED golf training program uses three dimensional (3D) performance analysis and Training to deliver consistent improvement of golf-specific athleticism and performance. Utilizing the NG360′ FPS golf training system, used by some of the top professionals in the game today, we will teach you the fundamentals and mechanics that will take you to the next level.
Benefits of Golf Training
Add valuable yards to every shot

If you want more distance, our integrated approach for golf-specific training is designed to increase rotational power, and stoke efficiency, as well as flexibility and mobility.

Swing consistently for low scores

As any golfer knows, consistency is everything.  We have training techniques focused on improving your stability, balance and flexibility so you can reproduce a consistent swing over and over again.

Feel as strong on the 18th hole as you did on the 1st

Golf is a game of power but also endurance which demands strength and stamina on every single hole.  That's why our scientific training program for golf builds muscular endurance.  Our certified personal training coach uses the most advanced training techniques to ensure that you'll be swinging strong the entire day.

Reduce likelihood of injury

We'll help you stay in play every weekend with mobility development, rehabilitation exercises, and movement analysis.
NG360′ Functional Performance System (FPS)
Our Three Dimensional (3D) Golf Performance Analysis and Training program delivers consistent improvement of golf-specific athleticism and performance. These are the planks that make up the NG360′ Functional Performance System platform:
Functional Performance System Analysis
Golf swing analysis
Transformational zone analysis
Mobility analysis
Functional Performance System Training
Flexibility / Mobility training
Stability / Balance training
Strength / Power training
Speed / Reaction training
Agility / Coordination training
Fundamentals / Skills training
Endurance / Sustainability training
Resiliency / Adaptability training
Recovery / Restoration training
NG360′ Functional Performance System Overview
Expectations
XCEED Sports Performance will evaluate your current athletic performance, strengths and weaknesses in order to customize a golf-specific strength and conditioning program.
As a golfer it is extremely important to maximize your whole body's power output through your core to the upper/lower extremities making you as precise and efficient as possible. Let XCEED Sports Performance help you learn how to improve your golf game while training smart; preventing injuries with our functional golf training programs.
Golf Training Signup