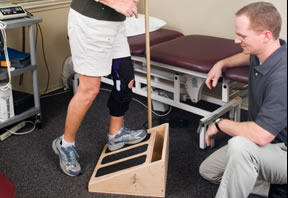 At XCEED in Gainesville, Florida we are committed to helping you recover as quickly as possible from any type of physical injury.
Bridging the gap between rehabilitation and performance, our post rehabilitation recovery services are focused on a holistic approach to injury recovery. We provide an evaluation of the injury and surrounding areas, looking for any deficiencies or weaknesses that may have attributed to the injury. If we can spot something that might have caused or contributed to the injury, we will target it through our post rehabilitation recovery services to strengthen the area and do our best to make sure the injury does not happen again. We look forward to helping you recover as soon as possible. 
A complete and satisfactory recovery from any injury is critical when it comes to sports performance, quality of life and overall function. Our goal is to make sure the injury does not define you or serve as a problem long term. Our post rehabilitation recovery services will make sure the injury is a distant memory as you aim to move on with your life and get back to normal. Allow XCEED to help play an important role in your recovery. 
Post Rehab Services
Post Injury Rehabilitation Service
Post Surgery & Rehabilitation Service
Athletic Rehabilitation
(Transitioning you from Physical Therapy to Sports Training)
Reoccurring Pain Evaluation
Clients Include
Professional and College Athletes
High School and Youth Athletes
Armed Forces, Firefighters, and Law Enforcement
Everyday Active Adults
Senior Citizens
Expectations
Post rehabilitation exercises performed at XCEED address the initial cause of the injury and not just the symptom(s).
XCEED evaluates your injury and customizes a post rehabilitation program to get you back on your feet and into the game. Our team's goal is help you obtain a pain free lifestyle by re-establishing full-range movement with our exercises.
Ready to XCEED?